More and more frequently, we are seeing TV screens installed in many public areas like gas stations, stores, restaurants, sporting areas, hospitals, and universities to name a few. These screens are specifically for Digital Signage - An efficient, cost saving communication/advertisement medium that allows for easy alterations and immediate exposure.
Need to design broadcasts while on-the-go? No Problem.
To support our web-based Onxxon Digital Signage, we have developed a downloadable app for your Android device. The Digital Signage app enables users to broadcast a mix of slideshows, text over Images, and videos in an incredibly easy manner. Onison's Digital Signage app is completely free to download and is proven to simplify communication dramatically.To learn more about the application, click the image below.

Retailers, chain stores, and franchise groups can present in-store and front desk television broadcasts and digital signage in real-time over the Internet. The professional Onxxon Web-to-TV broadcasting service is an add-on to the enterprise class ImageDirector Digital Asset Management System. High-definition videos can be combined with images, Flash, text- and sound-overlays and streamed to monitors at any location.Custom in-store television programming, front-desk television shows and video based staff training significantly strengthen brand recognition and help create sales at the point of decision. Promotions and advertisements can also be integrated into the media broadcasts.
Global Reach in Minutes

Onxxon Digital Signage provides both internal and external benefits:
External:
An effective and cost-efficient method of advertising

Instantly update information without the hassle of working with a third party advertising agency

Boost sales with in-store shows featuring new products/services
Internal:
Simple means of communicating important, and timely information

Eliminate work repetition

Helps establish corporate culture

Easily share timely instructions/corporate changes

Promote corporate branding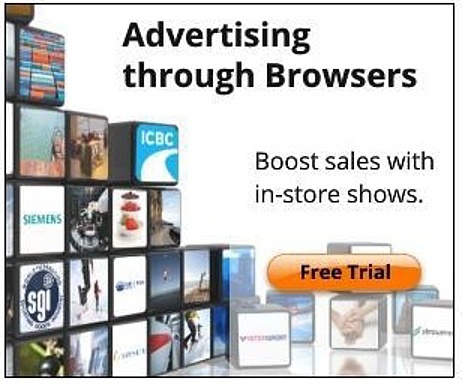 The Power of Digital Signage
With a leading edge solution that requires no software installation other than an Internet browser, users benefit from dramatic increases in efficiency and cost reductions by utilizing the Onxxon Web-to-TV service, which enhances their brand management. Manual processes can be replaced and a consistent brand identity can be retained. As part of ImageDirector, media broadcasting is native - not insular - and helps leverage existing pre-press data and other files. Onxxon Web-to-TV automatically provides the shows in the correct format for different devices.
For greater control and manageability, Onison provides a free Android Digital Signage App that can be installed on any Android enabled TV or on an Android Mini PC that enables any monitor or TV with an HDMI Input for Digital Signage.