Preeon Publisher is a powerful tool for implementing customized communications projects.
The core of Preeon Publisher is an XML-based software robot that translates the actions in the point-accurate browser based editor into a professional publishing PDF format. The print-ready, high resolution data can be sent to any modern print shop for professional results. In essence, Preeon Publisher replaces a chain of costly pre-press processes.
The system is web based, no software or add-ons need to be installed. It is available for access on mobile devices and tablets. Unlimited numbers of users are able to access Preeon Publisher, open professionally prepared templates in the browser based editor (which look identical to the print output), choose and modify their images, change their text and send the final high-resolution print material to the print shop without ever being engaged in specialized publishing or graphics software. Text is shown in the correct (corporate) fonts of the final documents, colors can be limited to your organization's identity, and the original high-resolution images are represented in image formats that can be viewed over the Internet.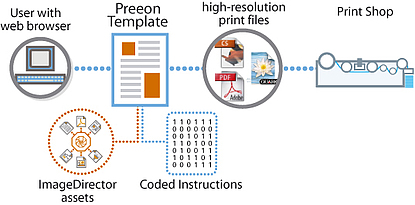 Text in single- or multi-page documents can be edited and formatted within restrictions set by the administrator. Images from ImageDirector can be placed and positioned into individual containers. They can be resized, moved, cropped, or rotated. Preeon Publisher inserts all text and image manipulations into the final document by calculating all changes with the original files. Every page of a document represents a template that defines layouts and identity elements. While the user sees at all times a 1:1 representation of the current state of the print collateral in the browser based full feature editor, the completed document can be saved and viewed in PDF. Once the user is satisfied with the result, the print data can be sent to any modern print shop in a high resolution PDF document that can be fine-tuned even further at the shop.
The Preeon Web-To-Print Publisher server is linked to Onison's ImageDirector Media Asset Management System, another database file system or a CRM through our intelligent XML database interface. With the help of ImageDirector, Preeon Publisher can handle virtually any image file type. There is no need to individually prepare images for print jobs. The system relies on the original images and does not require the user to have pre-cropped or pre-rotated derivative versions. Preeon Publisher handles all image manipulations internally.
Preeon Publisher is designed for professional output in the print shop, in offset print, or with digital printers.
More info
Preeon Web-to-Print Publisher