Extending the power of Preeon Publisher's Rich Internet Application, with the POS Price Tag Editor option in ImageDirector you can control the branding of the price tags throughout your chain of affiliates and procure the data automatically, ready for the store manager to edit within specified limitations. Price labels can be printed locally in bulk or individually. They can contain additional text, logos and images, which can be manipulated within the rights of the user. Sub­sidiaries or franchisees can access and modify price tag tem­plates that are conforming to the brand identity, rapidly and easily in Internet Explorer. The POS Price Tag Editor option simplifies creating complex labels based on imported data.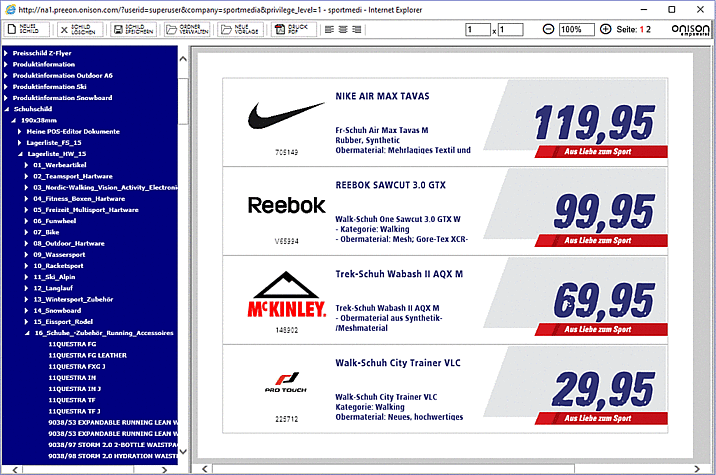 Customizable user interface of POS Price Tag Editor
Built on Onison's core technologies, the POS Price Tag Editor is ideally suited to global brand management in which organi­sations wish to control the workflow for providing label customization capabilities and inte­grated connections to ImageDirector media asset management or other corporate databases.
Depending on the access rights, images can be cropped, resized and rotated, or further modified. Text can be modified just as in popular word applications. The print-ready result can be sent to the local print machine.